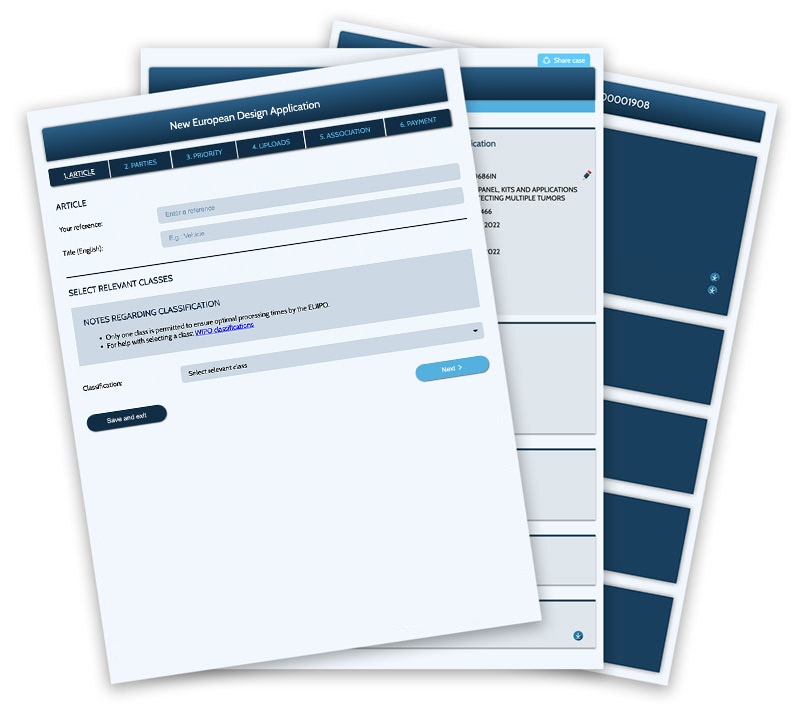 How to file a design
EU Registered Community Design

How to file a EU Registered Community design:
Register or login
Complete the online application form
Upload images
Pay EUR556 filing fee (payable in US$ with 4% conversion fee)
No Power of Attorney, Declaration, Assignment or other document is required.
Filing tips:
Article title:
Use the "Recommended Title" associated with your Classification as the "Title (English)". This will reduce the risk of the EUIPO issuing an office action.
Classes:
Each EU Registered Community design should cite only one class. Refer to the main class, e.g. Class 7 and the sub-class.
Priority claim (optional) / prior disclosure:
Priority may be claimed from other design applications filed during the previous 6 months.
EU Registered Community designs may be filed within 12 months of first public disclosure.
Drawings / photos:
one view / image per attachment (drawings or photos permitted)
the views should be of the same design and the same colour(s) (no variations). Any variation should be filed as a separate embodiment.
do not include numbers, words or symbols
use a neutral (white) background
only 7 views per design (exploded views are permitted)
upload images as JPEG files
Multiple embodiments:
Each EU design application may include multiple embodiments, provided that:
The main class (e.g. Class 7) is the same for each embodiment; and
The applicant is the same for each embodiment.
The EU Registered Community design will not be registered until examination of each embodiment has been completed.
The official fees (registration and publication) is reduced by 50% for each of the second to 10th embodiments and further reduced by about 50% for embodiment 11 onwards.
Costs:
Filing, acceptance, publication and registration: EUR556 (payable in US$ with 4% conversion fee)
The registration certificate (electronic version) is emailed to you at no additional cost.
Filing receipt and number:
We will email you a filing receipt and application number within a couple of days of filing.
Prosecution:
Applications are typically accepted and registered within 1 month
Status updates are sent by email
Manage and track prosecution via your online dashboard
Timelines:
Filing: immediately upon payment
Acceptance, registration and receipt of certificate: typically within 1 month
Renewals:
EU Registered Community designs must be renewed every 5 years from the filing date and expire on the 25th anniversary of the filing date.
Renewals may be processed by the PayAnnuity patent renewal system.
How to file a design
[Page provided by Genuine IP Law]