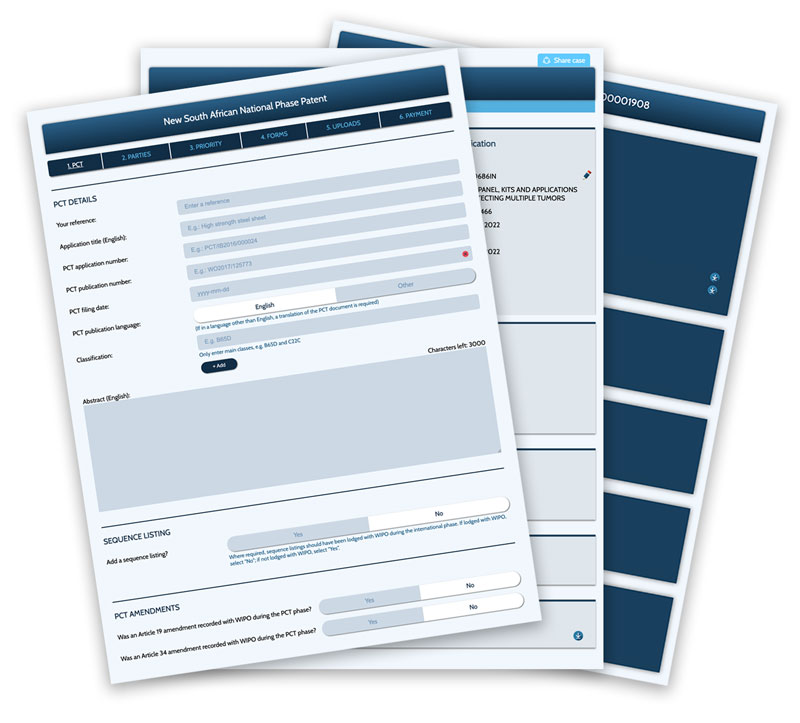 Learn more
How to

DIY South African trademark filing
Step 1: Login and select "New Cases" > "South Africa" > "Trademark" in the navigation bar on the left side.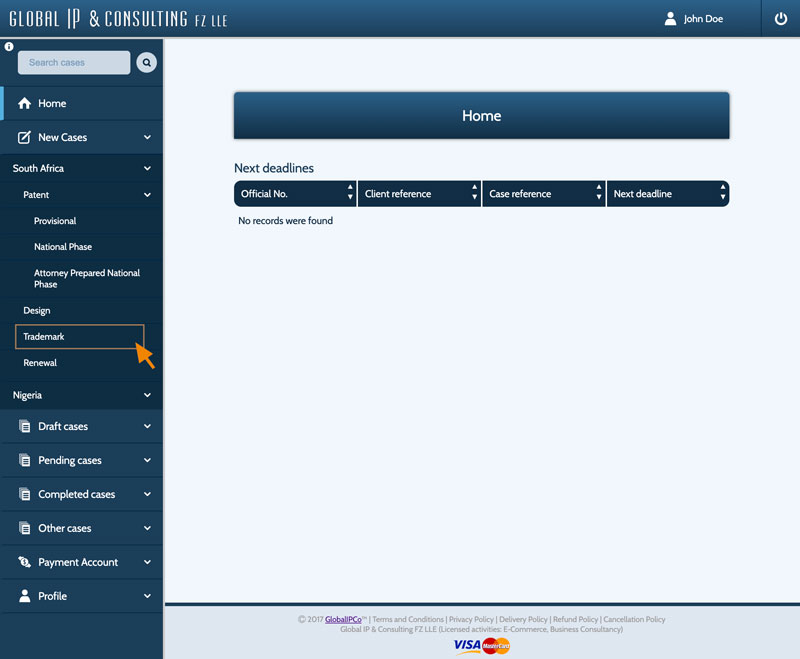 Step 2: Complete the online application form; download Power of Attorney; upload scanned copies of the signed Power of Attorney; and pay by credit card
1. Mark/Logo

Optional:
Registrability search: $300
Fees:
Filing: $199
Opinion re examination report: No charge (automatically provided upon reporting of examination report)
Publication: $70
Courier of certificate to you: $110 (optional)
Renewals:
10 year renewal: $65

Search
Notes & Tips:
Search for the Word mark in other languages
Search for your Word in the classes in which you will trade. Also search for similar Words in associated classes
Descriptive marks (e.g. Joburg Cycles) are not good trade marks
Do not try register a well-known brand, e.g. ZARA
NOTE: This online search facility finds identical trade marks on the South African trade mark register, but excludes trade marks filed within the last 6 weeks. If a confusingly similar trade mark has previously been filed, or if a similar unregistered trade mark already enjoys a reputation in South Africa, the South African Trade Marks Office may refuse your application.

Next steps:
Upon payment, we will immediately file the South African trademark application.
We will send you an application number and filing receipt within two business days, and you can track the status of the application online.
The South African trademark examiner may issue an examination report within 9-12 months of filing. If issued, the examination report should be responded to within 3 months. When reporting on issuance of an examination report, we will include S&Z Trademark Attorneys' opinion regarding how to respond thereto. You may instruct S&Z Trademark Attorneys to respond to the examination report (cost: from US$70).
Within 15-20 months of filing, we should send you an email reporting acceptance of the trademark application. You will need to respond to this email and instruct us to publish acceptance (cost: $70 payable by credit card).
If acceptance of the trademark application is not opposed by a third party following publication, we typically receive the trademark registration certificate within 6-8 months of publication. An electronic copy of the registration certificate will be emailed to you without charge, and you can (optionally) request the document to be couriered to you )cost: $110 payable by credit card).
Note: Filing and official fees are included in our filing fee. Downstream costs: Requesting opinion regarding examination report (if any), no charge (automatically provided upon reporting of examination report); Replying to examination report (if any) (from $70); Publication ($70); Courier ($110, optional); and Renewals.
Learn more