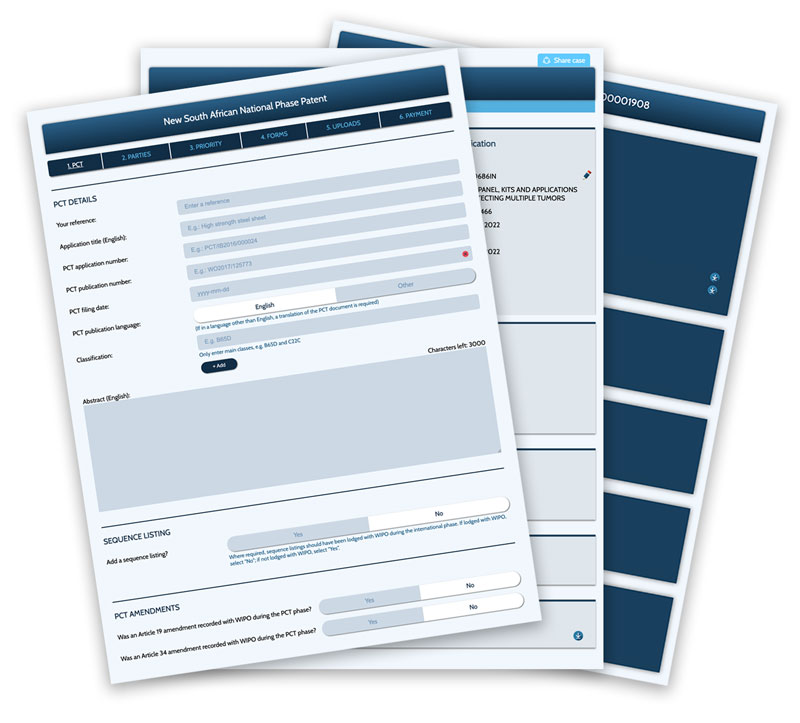 How to file a design
South African Design

How to file a South African design:
Register or login
Complete the online application form
Download, sign, scan and upload forms
Pay US$299 filing fee
No documents need to be commissioned, notarized or legalised.
No original documents need to be couriered to us.
Filing tips:
Article name:
Use a generic description, e.g. Container.
Classes:
Each South African design may cite only one class. Only refer to the main class, e.g. Class 7.
Design type:
"Aesthetic" designs cover aesthetic features of shape, whereas "Functional" designs cover features of shape that are dictated by their function.
A South Afican design may be for either an Aesthetic type or a Functional type. Most articles are filed as both Aesthetic and Functional designs, requiring two design applications.
Explanatory statement (optional):
The explanatory statement is used by a judge during infringement proceedings to understand the design. Most South African designs do not include an explanatory statement.
Priority claim (optional):
Priority may be claimed from other design applications filed during the previous 6 months.
Release date (optional):
If the article was publicly released prior to the South African design filing date and no priority is claimed, you should claim a release date (being the date of first public release) not more than 6 months before the South African design filing date.
Drawings / photos:
The design application may include either drawings or photos.
Show only one embodiment per design application.
To "disclaim" portions of the article, draw them in broken lines. However, only portions that are "made separately" may be disclaimed.
Costs:
Filing: US$299
Publication of acceptance: US$70
Courier registration certificate (optional): US$110
Filing receipt and number:
We will email you a filing receipt and application number within a couple of days of filing.
Prosecution:
No substantive examination
Applications are typically accepted within 9 months
Status updates are sent by email
Manage and track prosecution via your online dashboard
Timelines:
Filing: immediately upon payment
Acceptance: typically within 9 months
Publication and grant: within 3 months of acceptance
Receipt of registration certificate: typically 3 months from grant
Renewals:
South African designs must be renewed annually from the third anniversary of the earliest of:
the South African filing date
the priority date
the release date
Renewals cost US$60-75 per year, and are processed by the PayAnnuity patent renewal system.
Aesthetic designs expire after 15 years, and Functional designs expire after 10 years.
Our South African agent:
Our South African agent is S&Z Patent and Trademark Attorneys:
Anthony van Zantwijk - practising since 2001, BSc(Civ)Eng, LLB, LLM(Tax), registered patent attorney
Paulo Lopes - practising since 2003, BSc (Mech)Eng, MSc(Mech)Eng, LLB, HDip(Tax), registered patent attorney
Taya Lombard - practising since 2013, LLB, registered trademark attorney
S&Z was formed in 2007 and specializes in: patent, trademark and design registrations; intellectual property commercialisation; taxation of intellectual property transactions; and intellectual property valuation. The firm's clients include Anglo American Corporation (Mining), Sasol (Oil), University of the Witwatersrand, South African Revenue Service. S&Z has filed more than 7,000 patents, 1,000 design registrations and 1,200 trademarks.
How to file a design