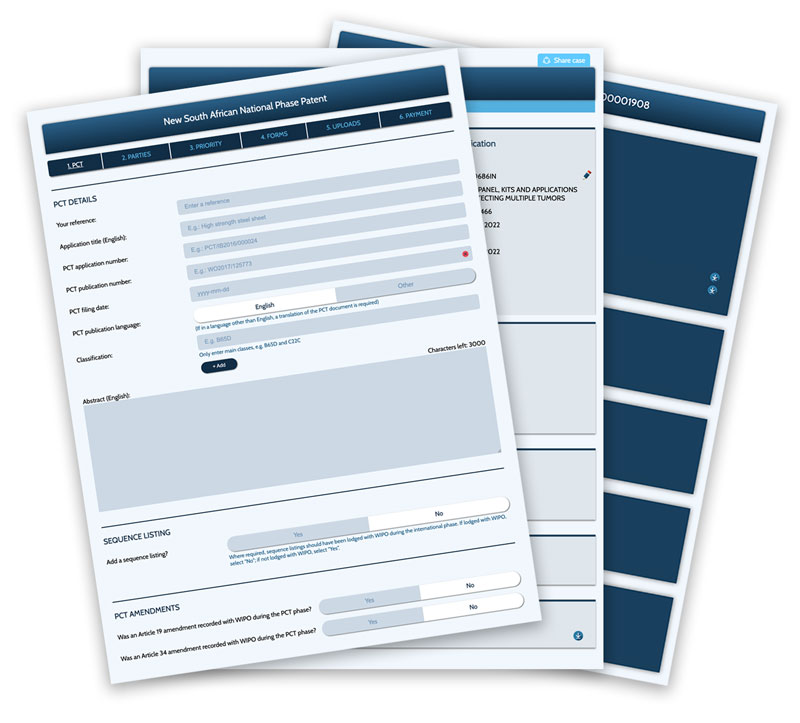 How to file a trademark
South African Trademark

How to file a South African trademark:
Register or login
Complete the online application form
Download, sign, scan and upload forms
Pay US$199 filing fee
No documents need to be commissioned, notarized or legalised.
No original documents need to be couriered to us.
Costs:
Filing: US$199
Providing opinion to examination report (if any): No charge (automatically provided upon reporting of examination report)
Responding to examination report (if any): from US$70
Publication of acceptance: US$70
Courier registration certificate (optional): US$110
Filing receipt and number:
We will email you a filing receipt and application number within a couple of days of filing.
Prosecution:
The South African trademark examiner may issue an examination report within 9-12 months of filing. If issued, the examination report should be responded to within 3 months. When reporting on issuance of an examination report, we will include S&Z Trademark Attorneys' opinion regarding how to respond thereto. You may instruct S&Z Trademark Attorneys to respond to the examination report (cost: from US$70).
South African trademarks are typically accepted within 15-20 months of filing. Acceptance must be published within 6 months.
In the absence of opposition, the trademark registration certificate should be issued within 6-8 months of publication of acceptance.
Timelines:
Filing: immediately upon payment
Examination report: typically within 9-12 months
Acceptance: typically within 15-20 months
Publication: within 6 months of acceptance
Issuance of registration certificate: typically 6-8 months of publication of acceptance (if no opposition)
Renewals:
South African trademarks must be renewed every 10 years from the South African filing date. Each renewal costs US$65, and is processed by the PayAnnuity patent renewal system.
Our South African agent:
Our South African agent is S&Z Patent and Trademark Attorneys:
Anthony van Zantwijk - practising since 2001, BSc(Civ)Eng, LLB, LLM(Tax), registered patent attorney
Paulo Lopes - practising since 2003, BSc (Mech)Eng, MSc(Mech)Eng, LLB, HDip(Tax), registered patent attorney
Taya Lombard - practising since 2013, LLB, registered trademark attorney
S&Z was formed in 2007 and specializes in: patent, trademark and design registrations; intellectual property commercialisation; taxation of intellectual property transactions; and intellectual property valuation. The firm's clients include Anglo American Corporation (Mining), Sasol (Oil), University of the Witwatersrand, South African Revenue Service. S&Z has filed more than 7,000 patents, 1,000 design registrations and 1,200 trademarks.
How to file a trademark