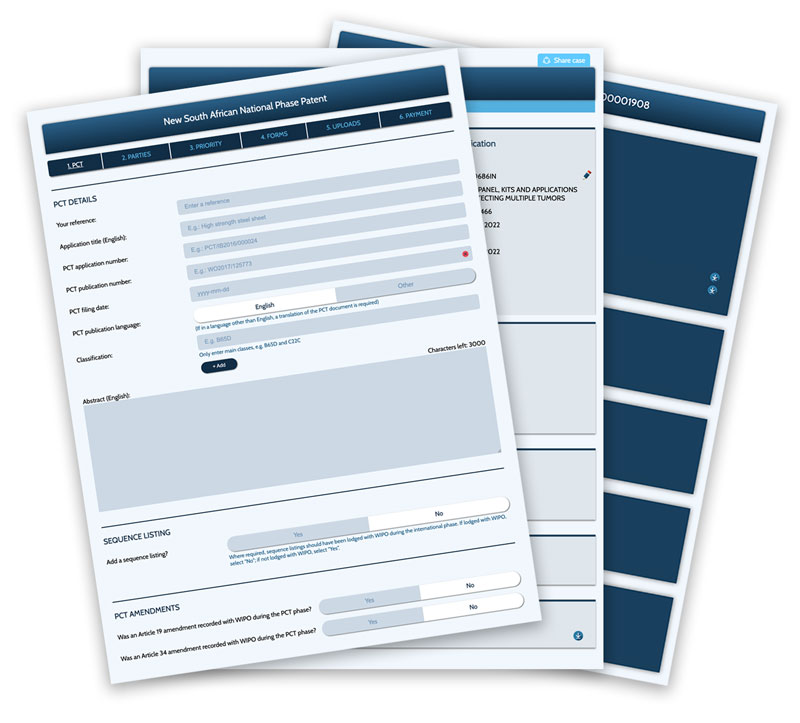 How to file a patent
South African Patent

How to file a South African patent:
Register or login
Complete the online application form
Download, sign, scan and upload forms
(Optionally) request a South African patent attorney to confirm that the application details and uploaded documents are correct for only US$49
Pay US$399 filing fee
No documents need to be commissioned, notarized or legalised.
No original documents need to be couriered to us.
Costs:
Online filing:
Filing: US$399
(Optional) Review by a South African patent attorney: US$49
Publication of acceptance: US$70
Courier registration certificate (optional): US$110
Filing prepared by South African patent attorney:
Filing, publication and courier of registration certificate: US$750
Deadline:
PCT patents can be extended to South Africa within 34 months of the priority date (i.e. 31 months + 3 months "no cost" extension).
Filing receipt and number:
We will email you a filing receipt and application number within a couple of days of filing.
Prosecution:
No substantive examination
Applications are typically accepted within 9 months. However, if expedited grant / accelerated acceptance is requested, time for acceptance is reduced to 2-3 months.
Status updates are sent by email
Manage and track prosecution via your online portfolio
Timelines:
Filing: immediately upon payment
Acceptance: typically within 9 months, reduced to 2-3 months if expedited grant / accelerated acceptance is requested
Publication and grant: within 3 months of acceptance
Receipt of registration certificate: typically 2-3 months from grant
Country rules:
South African patent law permits:
Multi-dependent claims
Multiple independent claims
Reference numerals in claims
Language:
South African patent applications must be filed in English.
Sequence listing:
If required, a sequence listing may be uploaded to the system on filing. However, if the sequence listing was lodged with WIPO a copy need not be lodged with the South African Patent Office.
Expedited grant:
Provided that all required documents are uploaded, expedited / accelerated grant of the South African patent application may be requested on filing.
Amendments:
The South African national phase patent application (as filed) must mirror the PCT application on file at WIPO. Changes to the applicant details / patent claims may only be made after filing.
Amendments to the claims before grant may increase the scope of the claims. However, amendments made after grant may not increase the scope of the claims.
Amendment costs:
Pre-grant amendment: US$350
Post-grant amendment: US$450
Withdrawal of acceptance:
Grant occurs upon publication (which must occur within 3 months of acceptance). To extend the period to effect a pre-grant amendment, acceptance may be withdrawn. An instruction to withdraw acceptance can be processed by logging in, selecting the case and instructing withdrawal of acceptance via the online portfolio.
Withdrawal of acceptance must be instructed and processed before the publication deadline, and costs US$150. Together with withdrawal of acceptance, we automatically request an extension to delay acceptance up 12 months from the date of filing the South African national phase patent application. Typically, this only extends the period of acceptance for 1-3 months.
Renewals:
South African patents must be renewed annually from the third anniversary of the PCT filing date. Renewals cost US$60-75 per year, and are processed by the PayAnnuity patent renewal system. South African patents may be renewed "to term" (i.e payment of all 17 renewals / annuities) for only US$485.
Our South African agent:
Our South African agent is S&Z Patent and Trademark Attorneys:
Anthony van Zantwijk - practising since 2001, BSc(Civ)Eng, LLB, LLM(Tax), registered patent attorney
Paulo Lopes - practising since 2003, BSc (Mech)Eng, MSc(Mech)Eng, LLB, HDip(Tax), registered patent attorney
Taya Lombard - practising since 2013, LLB, registered trademark attorney
S&Z was formed in 2007 and specializes in: patent, trademark and design registrations; intellectual property commercialisation; taxation of intellectual property transactions; and intellectual property valuation. The firm's clients include Anglo American Corporation (Mining), Sasol (Oil), University of the Witwatersrand, South African Revenue Service. S&Z has filed more than 7,000 patents, 1,000 design registrations and 1,200 trademarks.
How to file a patent